Dental Implants for Senior Patients
Many older folks ask whether and how they can afford dental implant treatment. The good news is that dental implants are still available to seniors. Dental implants are now quite inexpensive because of advances in contemporary dentistry. Dental implants for the elderly are likewise deemed safe, so there is no need to be concerned. Furthermore, the implant surgery has little effect on the falling bone density of elderly patients.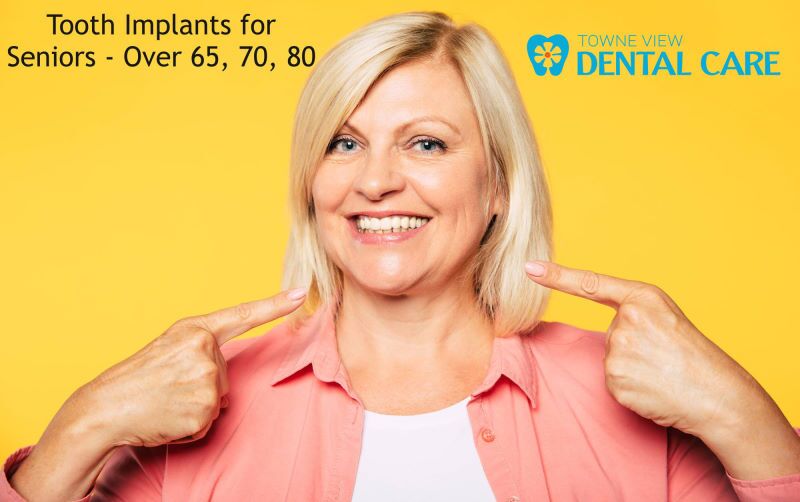 Can older patients (over 65, 70, 80) benefit from Dental Implants?
Many individuals begin to lose their teeth as they become older. This may have major consequences for one's quality of life, face attractiveness, and socializing. However, as contemporary restorative dentistry advances, more dental prosthetic devices efficiently replace lost teeth. Dentures have been used which have serious limitations. Implant-supported dentures are a much better type of restoration they outlast top and lower dentures and are much more durable than a partial implant or a permanent bridge. It seems more natural, does not restrict what you eat, does not need removal for cleaning and before going to bed, and will not slide or fall off at the wrong time.
Conditions of getting permanent implants for patients over 65 or 70, 80
Whether it is a single tooth, multiple teeth implants, teeth implants in a day, or a full mouth reconstruction, these are great choices as permanent teeth replacements.
The most significant prerequisite is a comprehensive examination. The examination evaluates whether or not you are a suitable applicant. Because they are securely attached to the jaw bone, they offer strong support for dentures. But if the jaw bone isn't strong enough to support them especially for an all-on-4 dental implant or a full arch restoration, additional measures may be required.
Diabetes, especially uncontrolled diabetes, and other disorders that impair bodily immunity will almost always be a concern.
Traditional dentures have been used for many years, but they are not nearly as successful as these. Dentures have been used for many years since they were the only ones available at the time. Several individuals have already changed their minds, and they no longer see it as a realistic therapy option. The range of methods and designs available allows the individual to choose what they want or need.
A practitioner conducting the task must have prior expertise working with elderly patients. They are friendly, sensitive, and knowledgeable in their field.
Receiving an implant requires surgery, and recovery may be hampered by weakened immunity.
The evaluation is also required to determine if the jaw is of sufficient quality to keep the implant in place during chewing pressures. Inadequate bone is not a concern. Bone grafting is available at an additional cost.
More about What you should know about dental implant recovery?
What Seniors Can Expect With Dental Implants
Dental implants are not for everyone, therefore patients must go through a series of screening tests to determine that they are qualified. Several stages are commonly included in the procedure:
Consultation. An competent dentist will evaluate the senior's mouth, take x-rays, and discuss and prepare for dental implant surgery if they qualify.
Placing Dental Implants. Your dentist will place the dental implant in the jaw where the missing teeth should be during the following visit. Seniors will suffer little to no discomfort or agony, and they will be able to resume their normal routine the next day.
Osseointegration. When the dental implant and jawbone begin to grow together, the procedure is known as osseointegration. This procedure assists the implant and jawbone in forming a stable and long-lasting foundation for the replacement teeth.
To ensure adequate healing of the implants, expect to be on a soft food diet for the next several weeks. It will take many weeks to a few months for older citizens to return to their usual lives.
Learn more about Veneers and Dental Implants Comparison.
Dentures vs Dental Implants for Seniors
Dentures have been around for a long time, and many seniors prefer them to other treatment options because they are more familiar with them. While dentures have been improved over the years, they may still present problems for seniors who wear them. Denture glue may occasionally fail to adequately hold dentures, resulting in slippage. Denture slippage is often both difficult and humiliating. Furthermore, due of the slippage, dentures may be exceedingly unpleasant when they brush against your gums. They must also be installed on a regular basis and, in certain situations, changed if they stop operating or begin to break down.
In contrast, dental implants are a permanent fixture in your mouth. As they are surgically inserted into your jawbone, the implants include crowns that appear and function like natural teeth. They are designed to seem as natural as possible by matching your existing teeth. These are designed to remain in your mouth and cannot be removed. It will feel strange at first to have an implant in your mouth, but as you get accustomed to it, you will forget you have one since it looks, feels, and functions just like your natural tooth. It does not need regular adjustments and may last for 20 years or more before needing to be replaced.
In summary, most 'healthy' seniors can receive them to repair their teeth, however recovery time may be slower than in younger individuals.
Although an affordable treatment, it is not for everyone and all options should be discussed with an expert. The choice is dependent on the patient's health, the cost, and the amount of time that the patient has available. The patient should ask questions until he or she knows the advantages, technique, and kind of implants that are most suited to their requirements. Schedule an appointment.
Have Questions? Contact Us.