A Comparison Between Veneers and Dental Implants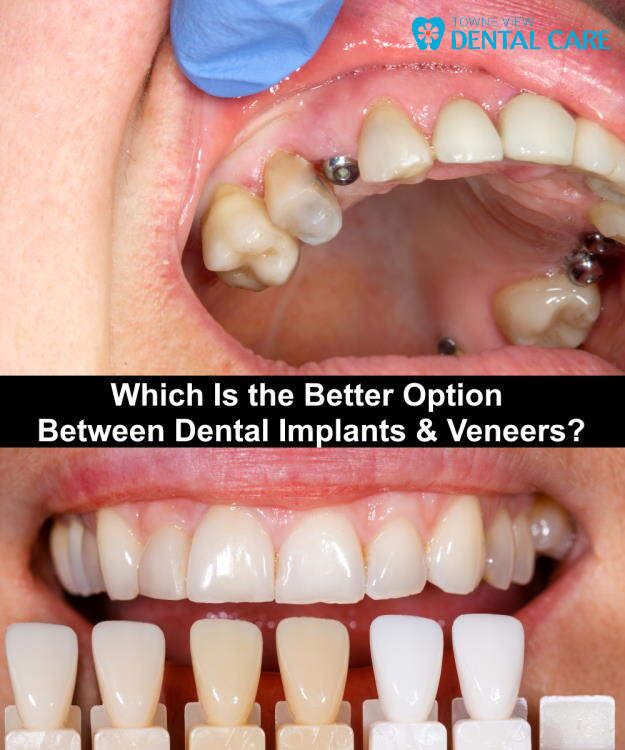 Are you having difficulty deciding between dental veneers and dental implants? Both restorative procedures may significantly enhance the appearance of your smile. However, there are certain distinctions between these dental restorations that may influence your decision to pursue one over the other. Both of these therapeutic methods are available to our patients. However, we want you to have all of the information you need before making a final choice.
Which is Better for You: Tooth Implants or Dental Veneers?
Both have their own set of advantages and disadvantages. Your aesthetic and financial concerns will play heavily in your ultimate selection.
What are Dental Implants?
These are the most cutting-edge and stylish techniques in functional and cosmetic dentistry. This procedure substitutes the tooth root with one that is as robust as a natural root and, in some situations, even stronger.
A dental implant is a titanium screw that is surgically implanted into the jawbone. It will integrate into the jaw over a few months—typically between three and six months—becoming a part of the body, a process called Osseointegration. Simply by using an abutment, you can attach a single porcelain crown to the implant or use multiple properly located dental crowns to support an entire set of artificial teeth.
Standard Implant Procedure
The conventional all-teeth rehabilitation method is relatively time-consuming, often requiring many dental appointments over a period of three to six months. However, there is no need to be concerned about uncomforta
the treatment itself will be painless since it will be conducted under a local anesthetic.
The procedure goes as follows:
Consultation and Examination – This is a critical first step. Your dental issues are discussed and addressed at your first appointment. We will conduct a thorough examination of your medical and dental history. We will next check your mouth to ascertain your present dental health and 3D X-ray photographs of your jaw to ascertain its condition. This is critical because the jaw bone must be sufficiently robust to sustain the implant and resist the chewing pressures conveyed while eating.

Existing Teeth Extraction – If your existing teeth are untreatable, they must be removed from the jaw. The gum is then allowed to recover.

Bone grafting – If the jaw bone or gum flesh is deficient in density, gum flesh and jaw bone grafting must be done. Similarly, to enhance aesthetics, gum flesh may need to be grafted. Grafting is a surgical procedure, and at least three months of healing time should be permitted after grafting.

After sufficient bone has formed, holes are drilled into the structure using speed-controlled drills at predetermined places and angles. These are fitted with an abutment that will aid in the future placement of the prosthetic implant. Sutures are used to attach the gum tissue to the implants. The patient is then sent home to allow for Osseointegration, which may take between three and six months.

Placement of Crowns – The next visit will be scheduled after the natural occurrence of Osseointegration. Through the abutments, custom-made crowns are affixed to it. When all of it is replaced, a complete set of fourteen teeth may be supported by four teeth that are appropriately situated and angulated. This procedure is often referred to as all-on-4 dental implants. In rare instances, more than four may be required.
Same-Day Dental Implants
Dentistry implant restoration has progressed with the teeth-in-a-day dental surgery to eliminate the long wait period before you can show off your new gorgeous smile. These are immediately loaded with a crown, denture, or bridge after their implantation inside the jaw bone.
What Are Veneers?
These are very thin porcelain or composite material caps that are less than half a millimeter thick. They are available in a range of hues and tones to complement the natural color of your teeth. Porcelain veneers are often used on the front teeth, but they may also be used on the upper, lower, or both sets of teeth, depending on your dental requirements. They are ideal for concealing broken, fractured, or discolored teeth.
How Are Veneers Applied?
These can be done quickly, but only by a competent dental practitioner. Typically, two dental visits are necessary for this operation. We will take an impression of your teeth during your first appointment and send it to a laboratory for production. The lab will be notified of the color, tint, and material type selected by you and your dentist. Pricing is affected by the kind of material utilized. The following visit will be scheduled following the completion of the structure. Prepare your teeth for the operation by brushing and flossing. Following that, your natural teeth will be bonded to the veneers.
How Is Osseointegration Helpful in Ensuring Implant Success?
This is its primary differentiating characteristic. No other form of restoration in contemporary dentistry has the same result. When titanium implants are inserted into live bone, bone cells begin to grow into the implant's surface. Typically, the implant is so completely integrated with the bone that it creates a strong, natural attachment within six months.
Where Are Veneers Useful?
These are advantageous for concealing the following aesthetic issues and concerns:
Stained permanent teeth
Teeth with gaps
Chipped teeth
Single tooth or multiple teeth with cracks
Crooked or deformed teeth
By using them to resolve these issues, you may get a gleaming smile in no time.
What Are the Benefits of Dental Implants?
Longevity – These may persist for decades, if not a lifetime.
No Deterioration – There is no risk of discolouration, breaking, or dislocation with porcelain crowns on them.
Osseointegration – These have the unusual feature of osseointegration, or integration with the bone, because to the titanium metal utilized in them. This provides them with strength, dependability, and a long service life.
Becomes Part of the Body -Dental implants are not an afterthought, as veneers are. They get integrated into the body.
Bone Growth – These substances promote bone development to a certain degree.
No Additional Care Needed – Implant-supported teeth put no restrictions on what you may eat and need no extra care beyond routine dental hygiene.
No Cavities nor Gum Disease – Veneers may become loose, exposing teeth to rot and gum disease. There is no possibility of tooth slippage with implant-supported teeth. Additionally, these prosthetic teeth are decay-resistant.
Full Mouth Implants – These may also be utilized to treat the whole mouth in a single jaw.
Limitations of Dental Veneers
There are a few limits to its usage. The following are the primary ones that may cause concern:
Tooth Replacement Not Possible – Dental implants are usually used to replace lost teeth, while veneers are utilized to correct crooked, chipped, or damaged teeth cosmetically.
Limited Life – These typically last 10 years before needing to be changed.
Cracks -It may break in certain instances, particularly if the first operation is not performed correctly.
Dislocation – If they are not adequately bonded, they may move and retreat from the gum line, allowing tooth decay and gum disease to flourish.
How to choose between Dental Implants and Veneers?
We've provided you with adequate information on veneers and implants. You've probably noticed that despite their high price, they are unrivaled in terms of aesthetics, convenience, and durability. One-day implants may sometimes be applied more quickly than veneers. Learn more about Are dental implants safe for elderly? Make an appointment with us now to begin your road toward a bright and healthy smile!
Sources:
Dental Implant Outcomes in Grafted Sockets: a Systematic Review and Meta-Analysis
Veneers. Columbia River Dentistry. Retrieved 2019-01-06.
Have Questions? Contact Us.