Cost of Invisalign Clear Aligners Near Flower Mound Texas
Most typical orthodontic disorders, may be treated with Invisalign such as crowded teeth, overbites, Underbite or gaps without having to use the typical metal braces. It is generally more expensive than traditional braces.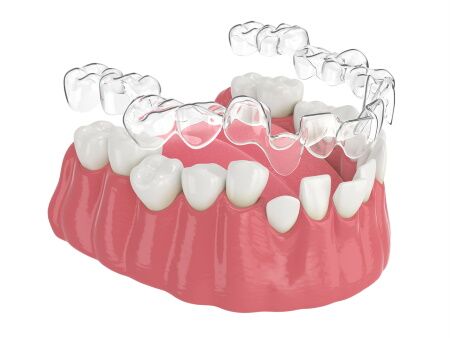 How much is the price of Invisalign in Flower Mound?
How much does an Invisalign treatment cost? It is determined by a number of criteria, including the severity of the patient's dental condition, the proximity of the dental clinic, the dentist's skill, and many more. Nevertheless, the general cost for Invisalign aligners is estimated to range from $4,000 to $7,000; Insurance, on the other hand, may pay up to $1500. for Invisalign Costs Flower Mound. The price near Flower Mound includes retainers. Invisalign transparent aligners are less expensive on average than conventional braces. Payment plans usually start at $89 per month.
List of Costing for Invisalign:
Early consultation fees are estimated to be between $100 and $200.
In most circumstances, X-rays are required. Their valuation might range from $25 to $250.
Retainers might range between $1,000 and $2,000 after the initial treatment.
Because of the shorter treatment time, the cost for Invisalign Lite may be less.
NOTE: Our office Towne View Dental Care at Flower Mound, Texas provides a free consultation and x-rays, and includes retainers in treatment fees. Learn everything there is to know about Invisalign OR To discover more, schedule a consultation.
In Flower Mound How much are invisible aligners without insurance?
Without insurance, the out-of-pocket costs for Invisalign range from $3500 to $8000. While insurance may pay at least a portion of this treatment, it varies depending on your physician.
Our benefits coordinator can assist you with reviewing your coverage. You are valuable to us, and we are more than willing to help you to the best of our ability!
Does the Price of aligners depend on the Number of Trays Used?
Yes. Conventional braces must be changed every few weeks to keep your teeth moving, however Invisalign use replaceable trays or "aligners." You wear one set of trays for two weeks before switching to the next in the series. More trays may be necessary depending on the difficulty of the teeth alignment required; hence, an extra charge will be charged.
Why isn't there a set cost of Invisalign, but a typical price range instead?
Invisalign therapy, unlike traditional braces, involves a large number of trays. The pricing of your treatment is determined on the number of trays required. Because the treatment is tailored to your teeth, the dental practice's charges change accordingly.
Does the pricing include retainers?
Usually, the cost Flower Mound charged by an Invisalign provider includes retainers. After the first Invisalign treatment, retainers are utilized. They maintain the work of Invisalign aligners.
Is it worth the investment?
The biggest advantage of all forms of braces is the aesthetic benefit, which is an excellent investment for you. Invisalign transparent aligners provide small tooth misalignment correction in an unobtrusive manner, making it worth to invest a few thousand dollars. However, there are several aspects of this kind in particular that you should bear in mind. It can only help with biting problems to a limited extent. It cannot, however, address more sophisticated biting problems.
Invisalign braces have the benefit of being removable, which makes them more convenient than metal braces. Brushing and flossing while wearing braces might be difficult at times. Food particles can become entangled in metal wires and brackets. There is no food particle buildup with this variety. When you eat, wash your teeth, and put the aligners back in, it couldn't be easier! Attachments are sometimes utilized to help move the teeth in the appropriate direction.
Pay Less Amount on Your Clear Aligners
Orthodontics may appear to be solely cosmetic treatment order to gain a more appealing smile, but this is not always the case. Crooked teeth might lead to dental issues in the long run. Nonetheless, many people are still afraid to seek orthodontic treatment since it is generally costly, especially if it is almost invisible, such as Invisalign. Fortunately, there are certain solutions that may assist you save expenditure. Continue reading to learn ways to cut your expenses.
Dental alignment treatment is increasingly being covered by insurance companies. It is common for this category to be included. A quick search for insurance near you should provide products that can help you save cash.Premiums are higher than traditional plans and you'll likely still have to pay a portion of the bill but it may help with the costs. Towne View Dental Care accepts . In addition, we will file any insurance claims on your behalf. Are you unsure about what your insurance policy covers? To ensure that your benefits are maximized, we will give a comprehensive benefits check and manage all insurance paperwork.
Government Programs, Loans and more
Unfortunately, Medicare and Medicaid will not help pay for invisible braces. Medicare is intended to help those at least 65 years of age and will only cover emergency-related dental costs. However, there can be a small chance that Medicaid or Children's Health Insurance Program (CHIP) in your state can help. If you're looking to pay for this through Medicaid, it probably won't be eligible except for a child and/or an emergency. It will most likely be required for you to prove that you can obtain invisible braces for the same price as conventional. On the other hand, you may also try applying for a government loan.
Flexible Spending Accounts (FSA)
This is a pretax investment amount that is deducted from your paycheck and placed away only for healthcare expenses. They can only be obtained through an employer that provides that option. This perk is included in many employee benefit packages. They are frequently simple to use with a debit card and are available at any time. Remember that these monies will not roll over, so use them up before the end of the year. You can learn more about FSAs here.
Health savings accounts (HSA)
This is a government-regulated savings account that allows you to set away amount from your pretax income to meet health-care expenses not covered by your insurance. The contribution is tax-deductible. An FSA and an employer-sponsored HSA vary in two ways: monies in an HSA can roll over into a new year, and HSAs require you to have high-deductible health plans. Talk to your doctor's office as well as your benefits representative since you may be able to pay your doctor for this service and be reimbursed via your FSA or HSA. Your benefits provider may also be able to directly pay your doctor. Find out more about HSAs.
Treatments at Dental schools are affordable
You may always do some research to discover if there are any dentistry colleges in your region that provide affordable treatment. There are schools that will give you a discount on services if you agree to let a student learn under your supervision. A excellent dental school will guarantee that the student giving your services is overseen by a board-certified dentist.
Can I Afford your Payment Plans and financing?
Many offices have monthly payment plans so you don't have to pay your entire cost all at once. You may always inquire about the dentist office's in-house payment options and see what they have to offer. We value your dental health just as much as you do. Dental expenditures are frequently the reason why some patients put off required procedures, which can lead to more complications later on. We aim to help you avoid this situation by providing you with payment choices or financial aid for dental services. All major credit cards, including Visa, Master Card, and American Express, are accepted. We also work with outside finance providers like CareCredit, GreenSkyCredit, and the Lending Club. Give us a call today to know how much is the monthly payment.
Don't be concerned if none of the programs listed above satisfy your needs. There are other programs that help you save money on your treatment and even provide a dental grant which reduces the price Flower Mound. Even in locations where charity dental treatment is not readily available, several groups provide cost-effective oral health care options. Furthermore, if you are very strapped for donation, you might organize a donations event to solicit donations. Nonetheless, finding a dental clinic where you may get your teeth fixed at a cheap cost or even for free may take some time, but regular dental care is essential for long-term health.
Contact us to schedule an appointment
For Flower Mound, How much does Invisalign cost with my insurance?
Invisalign clear aligners with insurance typically cover up to $1,500 of the total treatment cost. Visit our office to learn more about Invisalign.
In Flower Mound, How much is Invisalign with per month payments?
The cost of Invisalign per month will depend on the total cost of your treatment and for how long you are going to pay for it. You can expect to pay a minimum of $89. Please consult the doctor for available financing options.
Flower Mound Invisalign Cost Near Me
When it comes to saving time and money, choosing a dentist close to where you live, work, or go to school is critical. There may be a few treatments or follow-up appointments in addition to normal visits later; hence, having your dental office nearby will make things easy. Also, seek a specialist with outstanding evaluations for Invisalign clear aligners to assess the expert's skill worthiness and someone with whom you feel comfortable to prevent the headache of submitting a compensation claim if a mishap occurs throughout treatment. By making intelligent choices, you may give yourself a brilliant, gorgeous smile. We care about your comfort and safety. If you have any concerns regarding how much Invisalign costs, please contact us or schedule an appointment with us now!
Flower Mound is an incorporated town located northwest of Dallas and northeast of Fort Worth adjacent to Grapevine Lake, the town derives its name from a prominent mound located in the center of town. Flower Mound has the largest population. Flower Mound was the only town with a population greater than 20,000 in the 2010 Census.
Flower Mound has used a smart growth system for urban planning, and has recently experienced more rapid light industrial growth to match the growing needs of the primarily residential community. Flower Mound was named for hill approximately in height located close to the intersection of FM 3040 and FM 2499. The formation attracted the attention of early settlers to the area, and is often simply referred to as "The Mound". Part of the Texas blackland prairies, The Mound is typically covered by big bluestem, little bluestem, and Indian grasses.
Economy
Due to the town's proximity to the DFW Airport and many various major highways, a great number of businesses have recently moved some of their local operations into the town, including such businesses as: Best Buy and Stryker. The Lewisville Independent School District is the largest employer in the town, employing 1,647 (4.8% of the town's total employment). The Town of Flower Mound employs 455. Between January 1, 2000 and December 31, 2009, the city experienced job growth of 26.53%.
Parks and Recreation
The Town of Flower Mound operates 54 public parks and recreation facilities of space, nine of which (comprising 70 acres) are undeveloped as of 2012. In June 2008, the town held the grand opening for its new $13.825 million community activity center, which includes meeting rooms, a day care facility, weight lifting equipment, an outdoor pool and competition indoor pool. In honor of Lance Corporal Jacob Lugo, the first military serviceman from Flower Mound to die in the line of duty, the town renamed Hilltop Park to Jake's Hilltop Park in 2008.
In 2016 Flower Mound completed and opened its first dog park, a 5-acre Hound Mound Dog Park, costing over $1 million. In 2018 the Town of Flower Mound opened a 2000 sq. ft. splash pad as part of an addition to Heritage Park.
Government
The Town of Flower Mound has been a home rule municipality since 1981, and it has operated under a council–manager type of municipal government since 1989. Residents elect five at-large members to the Flower Mound Town Council and one mayor. Members serve two-year terms.
According to the city's 2013–2014 Comprehensive Annual Financial Report, the city's various funds had $114.6 million in revenues, $101.8 million in expenditures, $513.3 million in total assets, $155.9 million in total liabilities, and $68.1 million in cash and investments.
The structure of the management and coordination of city services is led by a town manager, deputy town manager and other roles.
Education
The town is mostly served by the Lewisville Independent School District. The western portion of the town of Flower Mound is located in the Argyle Independent School District. The town is home to three separate high schools, Edward S. Marcus High School, Flower Mound High School, and Argyle ISDs new Argyle High School campus.
The Lewisville-based charter school operator, operates a Founders Classical Academy in Flower Mound; the company is building a new facility in west Flower Mound at FM1171 and Flower Mound Road.
North Central Texas College has a community college branch campus within Parker Square in the town of Flower Mound. Midwestern State University has a branch facility, in conjunction with NCTC in the Parker Square location, which will offer master's degree programs amongst other services.
Have Questions? Contact Us.