Invisalign in Flower Mound, TX
Your smile is the first thing people notice about you, it's natural that you want it to be straight and brilliant. The majority of Americans, according to the American Academy of Cosmetic Dentistry, think that a smile is a vital social trait. They are concerned, though, about having visible metal brackets inserted on their teeth. Fortunately, more inconspicuous orthodontic procedures, like Invisalign transparent aligners, are now accessible.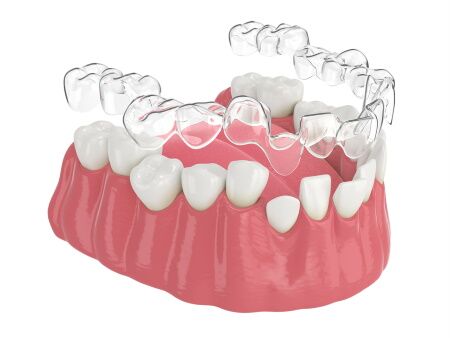 Invisalign® is a transparent aligner device that is worn in both the upper and lower arch to straighten teeth and correct poor biting. Apart from straightening the teeth, these custom transparent aligners may also be used to change the contour of one's face, considerably enhancing one's facial characteristics. They can even lessen Temporomandibular joint symptoms and diminish the risk of tooth decay and disorders of the oral cavity, salivary glands, and jaws, lowering the likelihood of future oral surgery. Invisalign is also useful in the field of periodontology and is ideal for people suffering from gum disease or periodontal disease. What distinguishes them from other orthodontic dental treatments such as metal braces, lingual braces, and transparent braces is that they are orthodontic appliances that are not connected to teeth, are nearly invisible, and may be readily removed when eating, speaking, or cleaning. Align Technology creates Invisalign® clear aligners. It is also the designer of the iTero Element® scanner, a leading digital scanner that can scan your teeth and create 3D pictures of your dental anatomy in a matter of minutes, as well as other 3D digital scanners. Furthermore, the Invisalign® SmileViewTM simulator is cutting-edge technology that allows you to preview the smile you'll have following treatment.
If you are near Flower Mound, TX, we will offer you with a set of clear, discrete aligners that you will need to wear for roughly 2 weeks. The aligners are made in such a manner that they exert stresses on your teeth that cause them to move. desired movement for tooth correction, including underbites, crossbites, overbites, open bite malocclusion, and deep bites Your old aligners will have fulfilled their function after 2 weeks and will be changed with a fresh set. In this manner, you will wear fresh sets of aligners every two weeks until the desired results are obtained. Following treatment, you will wear a transparent retainer to prevent your new teeth alignment from moving back. Orthodontists can also conduct minor teeth reshaping or contouring following Invisalign treatment, but for more significant work, visit a cosmetic dentist.
Scroll down to find out more about our office treatment. You can also check out our Before and After photos, Invisalign smile gallery, and our customer reviews and testimonials!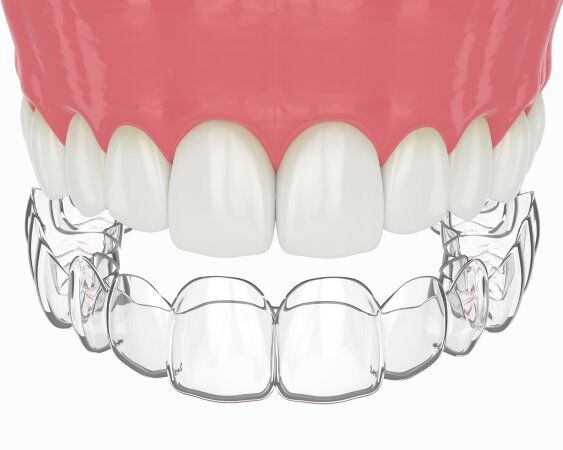 Straighten Your Smile Discreetly with Invisalign
It can be removed when you eat, drink, brush or floss your teeth.
Less time needed to sit in a dentist's chair compared to other braces.
Easier to clean; thereby, preventing tooth decay.
Customized to your Mouth.
Advanced Technology Affordable Treatment
Types of Invisalign Aligners:
While many of us believe that straighter teeth would assist our children, we should not ignore our mouths and continue to take excellent care of our teeth via regular oral hygiene and dental treatment. Invisalign is more comfortable and less obtrusive since it is constructed of transparent plastic. There are no distracting cables or brackets to get in the way of your speaking and talking. Adults who desire a permanent better-looking, healthier smile at any age will benefit from this invisible braces therapy.
The initial Invisalign® technology was an exciting new option in dentistry, but it was solely meant for adults. This is due to the initial design idea. Each aligner is a thin plastic shell that fits snugly over all of your teeth in a single jaw.
That would leave no room for permanent teeth that could emerge during therapy. This precludes the use of Invisalign® on children whose teeth were still erupting and whose jaws were still growing biologically.
Invisalign First is a treatment option for orthodontic issues with infant teeth. It not only corrects tooth protrusions and straightens teeth, but it also treats maxillary and mandibular pathology and a variety of jaw problems such as arch development, dental arch expansion, and small dental arches to enhance the overall appearance of a child's smile. The trays are custom-made to progressively broaden a growing child's jawline. By expanding the arch of the area over time, a skilled and experienced orthodontist such as Dr. Roopam Garg can help to correct a more serious oral health problem in the future while straightening your child's deciduous teeth through Invisalign.
According to the American Dental Association, Invisalign aligners have gained in popularity among patients around the country owing to its numerous benefits, particularly in terms of aesthetics, even though dental braces are less expensive. As a result, it was believed that it needed to be adapted for young teenagers as well. The end outcome was Invisalign® Teen. Tabs are left in spots where a tooth is still predicted to erupt with Invisalign® Teen. When the tooth is close to erupting, the tab is broken, allowing the tooth to emerge and expand. Thus, the advantage is retained, and at the same time, tooth development is permitted. Towne View Dental Care offers Invisalign to Teens in Flower Mound TX. This type of orthodontics treatment, however, is not for pediatric or very young patients. Don't worry, see Child orthodontics and Dental braces for kids for these cases.
Invisalign Express / Lite
Invisalign Express treatment is faster than standard Invisalign treatment. Express is better suited for less difficult problems and contains Smaller series of aligners, between five and 10, which are swapped out every two weeks; whereas traditional clear aligners can take 25 or more sets. Contact us or check out some Do's and Don'ts for this treatment near Flower Mound.
What orthodontic problems can Invisalign treat?
I have porcelain veneers or crowns. Will invisible aligners work with them?
Because so many people have undergone dental restorative treatments, it is fairly unusual for persons who have crowns, veneers, or even partial dentures and bridges to require orthodontic therapy. However, whether or not Invisalign will function on you while you have these restorations will be determined by your existing condition. Whitening your teeth, on the other hand, may have to wait till your treatment is over. Inform your orthodontist about the dental treatment you've had done, and they will assess your requirements.
How can I straighten my teeth without braces?
It is feasible to align the teeth without braces if you have slight overcrowding, malocclusion, an undeveloped palate, or a narrow upper jaw. Your orthodontist will devise a treatment plan for you that does not require the use of braces.
Sources
:
Have Questions? Contact Us.