All on 4 Dental Implants Flower Mound, TX
It's difficult to live without your natural teeth. It might be much more difficult if you have removable dentures to replace your lost teeth. No matter how much time and work is put into the dentures, they will never be as good as your real teeth. So, what's the answer? Our patients can benefit from whole mouth dental implants, which are supported by implant-supported permanent dentures. We do everything to the best of our abilities so that your new teeth look and feel natural.
What are All on Four Implants?
Endosseous implants, sometimes known as titanium metal posts or screws, are surgically placed into the jawbone behind the gums. Once healed and fastened, they allow your dentist to mount a full set of teeth on them. An all-on-4 fixed prosthesis is the ultimate approach for restoring lost teeth permanently, with up to eight in each jaw. The nicest part is that you don't have to buy a new root for each lost tooth. In summary, you may not require a complete replacement. A minimum of four implants are required to support a complete set of dentures; however, depending on the circumstance, permanent implants can be put on four to eight new roots in each jaw. These full mouth dental bridges or dentures will look and feels like your natural tooth and you will be able to eat and speak without any limitations.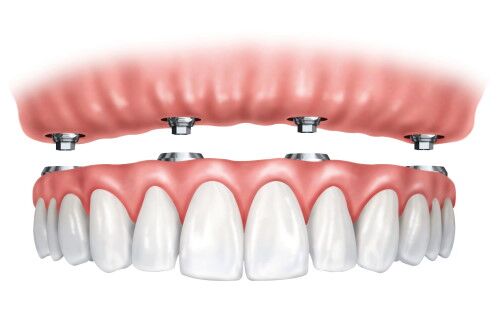 How does it work to get me a new Smile?
Each jaw might have all-on-four, all-on-five, all-on-six, or all-on-eight artificial roots with your new permanent dental prosthesis. They can accommodate either removable or fixed dentures. Four-on-four fixed The most prevalent type is a prosthesis. These are the ones in which two new roots are inserted at the front of the jaw. The remaining two are angled at a 45-degree angle at the back. Six or even eight can be put in the jaw if more support and retention for the prosthesis is necessary. However, this is not a frequent treatment since a greater number of titanium posts necessitates a larger volume and thickness of the jawbones.
What are the benefits to full arch denture implants?
Fixed prostheses provide a number of benefits over traditional prostheses such as dentures and bridges. Here are a few of the reasons why:
Convenience
You benefit from the strength, durability, and comfort of permanent replacements mixed with the aesthetics of fixed or removable partial dentures. This means you can eat and speak normally, and feel exactly as you did before. Your new teeth will have a firm foundation to support them thanks to artificial roots, allowing you to eat and talk normally.
Quick Esthetic Results
Unlike traditional choices, which take many months before a prosthesis can be placed over them, All-on-4, 5, 6, or 8 fixed prostheses may be loaded with fresh prosthetic teeth right away. You don't have to wait for the smile you deserve; you can get it in only one day!
Durability
Unlike traditional dentures, which must be repaired or replaced on a regular basis, fixed prostheses are extremely durable. If you maintain excellent dental hygiene, you may expect these astonishing creations to last a lifetime.
Quick Recovery
We make every effort to do as little surgery as feasible for the implantation. In most situations, permanent restorations require just four artificial roots, making the operation and recuperation easier for the patient. This is done to guarantee that the treatment is completed quickly and that the patient recovers completely and quickly.
Less Need for Bone Grafting
A bone grafting operation is not necessary in the event of a fixed prosthesis since it can be implanted in areas where the quality and amount of bone is less prominent. The consequences of bone resorption are often quite moderate in the front region of the jaw bone. As a result, the two new roots in the front are highly stable and effective in holding the prosthesis in place. The ones towards the back are often angled. As a result, they can be used in situations when there is even less space between the upper and lower jaw bones than typical. In some cases, we can even employ mini-implants for the same reason.
The fabrication and installation of All-on-4, 5, 6, or 8 is done in two stages. The first phase is the implantation surgery, and the second phase is loading them into your jaw with the appropriate prosthesis.
1. Treatment Plan
During first meetings, we develop a treatment plan tailored to your specific condition. We consider criteria such as the number of surviving teeth and the quality of the jawbone.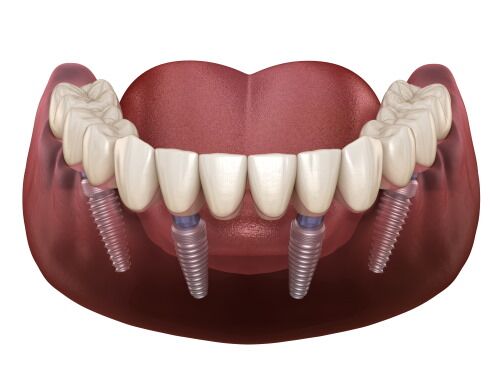 2. Tooth Extraction
Any teeth that need to be taken are extracted in accordance with the plan. After that, the extraction site is allowed to recover.
3. Placement
Our dentists will use local anesthetic to ensure that you are pain-free and comfortable. Conscious sedation may be recommended for those who are severely nervous or frightened. The surgical treatment begins with an incision over the soft tissue atop the jaw bone, which is where the new roots will be implanted. A surgical flap is raised, and a tiny hole in the jaw is drilled for implantation. The titanium roots are then screwed into place using regulated pressure.
4. Implant Loading and Crowns/Fixed dentures
Traditionally, the implants and bone are allowed to fuse together for three to six months. They serve as anchors for your false teeth. Temporary tooth replacement can be worn over the implant locations for the time being.
Immediate loading: New dental techniques now allow dentistry experts to immediately load these fixtures into the jaw with a suitable prosthesis. In the case of immediate loading dentures and their abutments are prepared before they are placed and immediately inserted once the initial surgery is completed.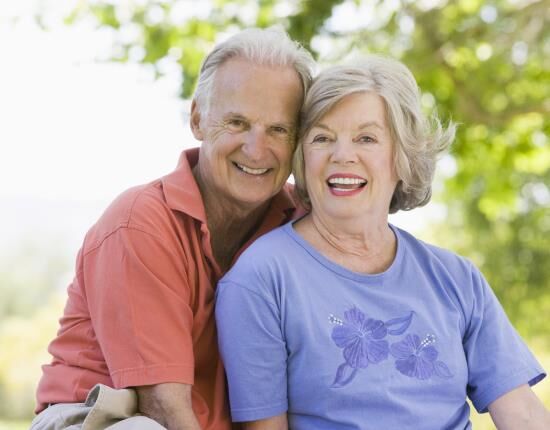 How much does All-on-4 dental implant cost?
The cost of dental implants in Flower Mound, TX generally ranges between $3,000 and could go over $50,000. Several factors determine the cost, such as the materials and system used, the expertise of the specialist, and even the location.
Denture Implants Near Flower Mound, TX
If you have been looking for a gorgeous new smile nearby, you can rest assured all on 4 dental implants will be the perfect solution for you. Concerned about the Cost in Flower Mound? Our Flower Mound, Texas office accepts most PPOs, works with lenders like CareCredit, and offers interest free, in-house payment plans. Proudly providing oral health care to our Texas neighbors. Implantes dentales aquí.
Schedule an appointment with doctor.
Source:
FAQs for Full Arch of Teeth
How much does it cost to get a full mouth of dental implants?
On average, replacing all of the teeth on the upper jaw, lower jaw, or even all teeth costs more than a single plate (top or bottom). This option is ideal for people who are missing numerous teeth in a row. If teeth must be extracted and bone grafting is performed, the cost might skyrocket.
Does dental insurance cover all on 4?
It varies on the kind of insurance, but in most situations, coverage for all-on-4 implants is limited. Patients are urged to verify with their insurance provider for specifics, since some policies do cover it. We will assess your oral health status, and our benefits coordinator will check your benefits to determine what is covered for you.
Full Mouth Dental Implants Near Me
When attempting to save time and money, choosing a dentist close to where you live, work, or go to school is critical. In addition to normal checkups, there may be a few treatments or follow-up appointments. It will be much easier if your dental clinic is close by. Look for a full mouth dental implant expert who has a good reputation and with whom you feel at ease.
Schedule a Free Consultation Today!
Have Questions? Contact Us.