Same Day Dental Implants in Flower Mound
Implant supported dentures, the same day, no waiting period!
Are you unhappy with your present dentures? Do you require a pleasant and long-term replacement alternative for missing teeth? What if you could get a tooth implant in only one day? You no longer have to wonder. With contemporary dentistry, you will not only be able to eat and speak normally, but you will also be able to enjoy a beautiful smile again in just one day! For just a Single Tooth, multiple, or even a full mouth, getting dental restoration in just one visit is possible. Getting permanent teeth in a day is the most convenient type of restoration.
Implants are titanium posts of different shapes and sizes (diameter and length) that are implanted into the jawbone to serve as the tooth's prosthetic root. After they are implanted, they are given time to heal and fuse with the jawbone, a process termed osseointegration. Once they have completely healed and set themselves within the bone, a suitable dental implant is placed to it, which serves as the crown of the prosthetic teeth.
Unlike traditional restorations, which can take weeks to complete, same-day restorations can be completed in a single visit to the dentist. This means you can start eating whatever you want as soon as your new restorations are in place. We recognize that our patients cannot afford to wait days for their lost teeth to be replaced. As a result, we provide our patients with the greatest quality fake fixed teeth, so they don't have to go without even for a single day.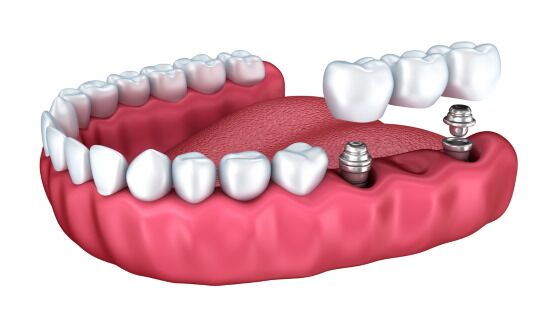 Are you a candidate?
A skilled dentist will do a thorough oral examination before booking your appointment for permanent tooth surgery. This will be done to check that you are a qualified candidate.
Before Your Placement Appointment
Our specialist will also review your X-ray and CT scan findings, as well as 3D digital imaging data, to determine the volume and thickness of accessible jaw bone where the new roots must be inserted. Careful planning of the angulation and location of the artificial root will be done ahead of time to speed your implant placement on the day of.
On the Day of Your Appointment
Everything will be ready for you when you come, including the abutment, temporary crown, and any other instruments. Because tooth implantation is a surgical operation, it is better if patients are sedated before the treatment begins. Depending on the length of the treatment, the dentist may choose for local sedation or general anesthesia. Your dentist will make an incision into the soft tissues overlying the jaw bone after you are anesthetized and pain-free. Following that, holes will be drilled into the bone, and the new roots will be carefully put into place using precise and controlled force. Finally, to complete the dental implant construction, prefabricated prostheses will be affixed to the permanent bridge.
Conventional Implants Vs. Same Day
For the permanent replacement of lost teeth, both traditional and same-day dental restorations are employed. In the case of traditional implants, dentists must wait a few weeks after inserting the fake tooth to verify that sufficient bone development has happened around it. In this manner, it will be firmly secured in place. On the other hand, advancements in modern surgical abilities now allow for the instantaneous loading of new implants. This means you won't have to wait while your implant-supported dentures are being prepared. We are around to assist you with these alternatives.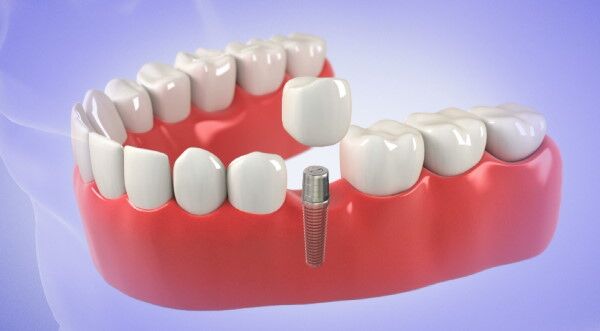 Benefits: why get Teeth Implants in a single day?
You're probably asking why you should get rid of your old dentures and get dental implants in a day. Well, here are a few reasons:
No Need to Wait for your New Smile
Nobody wants to be kept waiting in a laboratory while their replacement set is being manufactured. We will treat any unhealthy or failing teeth as well as prepare a replacement alternative. You may receive new permanent fixed dentures in a single day in this manner.
Durability
Unlike removable dentures, which must be fixed or replaced regularly, your supported prostheses are permanent and seldom need to be maintained. Did you know that if you take care of your fixed restorations as directed by your dentist, you may expect them to last a lifetime?
Natural Feeling
These are implanted in the jaw bone in the same manner as actual teeth are. Once installed, they will provide you with the natural experience and comfort of being able to eat any meals you desire.
Conservation of Jaw Bone Volume
Did you know that wearing removable dentures can cause considerable jaw bone resorption? This is not the case; instead, they encourage bone development around them, preserving the integrity, volume, and quality of residual jawbones.
No Need to remove at night
Are you weary of having to remove your dentures before going to bed? Here's some exciting news! Teeth implants are permanent and do not require removal. You may maintain the hygiene of your new teeth in the same way that you would natural teeth – simply brush and floss regularly, and you'll be fine!
Enjoy Your Favorite Foods
Another motivation to get rid of your old dentures is the ease with which you'll be able to consume a variety of meals. You can start eating all of your favorite meals right away thanks to fixed dentures for the complete mouth!
Permanent Teeth Replacement Options
Teeth in a day provides a rapid, long-lasting, and dependable tooth replacement alternative.
Single Missing Tooth Replacement
We will replace one of your lost teeth in a single day.
Multiple Missing teeth
Replace Multiple Teeth that is missing with the help of implant supported removable or fixed dentures.
Full Mouth Rehabilitation
Permanent dentures are used to restore the whole mouth.
All on Four Hybrid Dentures
With All on 4 implants, four posts are inserted in each jaw. They then support a complete denture over them, and are used for the restoration of a complete edentulous arch.
How much does same day dental implant cost?
The cost of immediate dental implants reflects the ease of surgical installation and same-day delivery of a new set of high-quality replacements.
Single and multiple implants cost:

The cost for replacing one or even a few missing ones at Flower Mound, TX in one session ranges between $800 and $2500.
Full mouth dental implants in one day cost

Replacing all of the teeth in the upper or lower jaws, or possibly all of them, with permanent dentures costs between $15,000 to $30,000 for only one plate (top or bottom). This option is ideal for people who have missed several in a row. If the remaining ones must be deleted, the total may increase. Looking for choices in your area?
One day implants near Flower Mound
At Towne View Dental Care in Flower Mound, Texas we provide low-cost instant dental implants. Our team takes pleasure in ensuring that our patients feel at ease and leave with a smile. We offer low cost treatments in Flower Mound, accept most PPOs (and HMOs) and are glad to answer any questions you have about the process or cost. Contact us to schedule an appointment.
FAQs for Teeth in one Day
Are they safe?
Yes, with a competent implant expert, they are quite safe with low danger. The most serious worry is the healing time, which includes the osseointegration process, which maintains the implants in place in the jawbone and finally fuses the implant to the bone. During the 3 to 6-month healing phase, patients must follow dietary instructions, such as avoiding hard meals, to ensure that the implants do not shift. This might cause a delay in healing and ultimately to implant failure. Dr. Roopam Garg DDS will make sure that you'll have a safe dental implants procedure.
How much do they cost?
Same day dental implants, or teeth in a day, can range from $2,000 to $5,000 for a single implant, to $34,000 for a single arch (top or bottom). The price reflects the benefit of having the surgical placement of the implant and the crowns in a single day.
Do teeth implants hurt?
Because dental implant insertion is an outpatient procedure, patients might expect some pain or discomfort afterward. A local anesthetic is used during the treatment to eliminate discomfort. To learn more about caring for your implants visit Towne View Dental Care.
Sign up for a complimentary consultation
Have Questions? Contact Us.