Mini - Flower Mound Dental Implants
Dental implants have a distinct advantage over regular tooth replacements. There are circumstances when traditional dentures are not recommended, or when a patient may prefer not to have conventional fixed dentures. Some individuals choose smaller implants since the operation is less intrusive. When there is insufficient bone density in the jaw to sustain a traditional implant, they are highly suggested. In these cases, the installation of these smaller tooth replacement can be greatly helpful.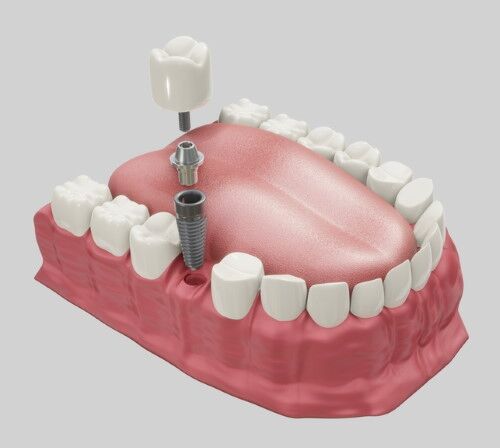 What is a mini dental implant?
These Teeth implants are made of the same material as the standard ones – titanium alloy. They are, however, much smaller in size. They are mostly titanium posts with a ball (precision attachment) affixed to the outside. Over the period of three to six months after it is screwed into the jaw, bone forms and integrates with it. Then, using a socket and a rubber O ring, an appropriate restoration is attached to this precision attachment..
The primary distinction between regular and smaller implants is their size. Mini restorations have diameters ranging from 1.8 to 3.3 mm, while standard ones have diameters ranging from 3.4 to 5.8 mm. Another distinction is that this newer, smaller tooth is a two-piece construction, whereas the conventional one is a three-piece thing. The abutment is placed to the body separately in standard implants. They are often placed in a single visit with only local anesthetic. Sutures are rarely needed if you get these implants.
Am I a candidate for Mini dental implant?
These devices are ideal for situations in which traditional ones cannot be used for a variety of reasons. If you do not want or are unable to obtain standard solutions such as conventional ones, fixed bridges, upper or lower fixed dentures, and other ways of replacing your lost teeth, you can profit from these. Some of the situations in which we provide these smaller alternatives to our patients are as follows:
Insufficient Bone Density –

The quality of the leftover jaw bone determines success. If the residual jaw bone is of good quality and quantity, the prosthetic roots have a very good chance of being retentive and functional for a lifetime. However, if the jawbone isn't dense or robust enough, this might be a really handy alternative.

Unfit for Surgical Procedures to Enhance Bone Quality –

In certain circumstances, your dentist will use allied surgical methods to try to enhance the quality of the remnant upper and lower jaw bone. Sinus lift, alveoloplasty, and bone augmentation are just a few of the surgeries available. Patients with any form of chronic sickness or cancer, on the other hand, are not candidates for surgical operations. In certain circumstances, your dentist may opt to avoid surgery and instead employ tiny restorations, which require far less bone density for good retention and functionality.

Insufficient Space Available –

When a natural tooth is lost, the opposite tooth develops into the empty area. If this occurs, it is frequently impossible to fit traditional ones into the reduced area. Mini equivalents that are less in height can be placed instead, readily fitting in while also keeping the area full and avoiding moving.
How much does mini dental implant cost?
They range in price in Flower Mound, Texas from $800 to $1,500 per implant. An implant supported lower denture in Flower Mound, TX, for example, can range from $2,000 to $5,000, This is far less than the cost of a full-size implants-supported denture Other cost concerns include the materials utilized, if teeth need to be extracted, and even the knowledge of a neighboring specialist. When you consider obtaining dental insurance near you, the prices might be reduced. Compare the cost with other similar treatments in Flower Mound: Same day dental implant cost and All-on-4 dental implant cost.
Flower Mound, Mini dental implant
At Towne View Dental Care in Flower Mound, Texas We provide low-cost micro dental implants. Our team takes pleasure in ensuring that our patients feel at peace and leave with a grin. We provide low-cost treatments in Flower Mound, accept most PPOs (and HMOs) and are glad to answer any questions you have about the process or cost. Contact us to learn more about this procedure.
FAQ for Mini Dental Implant
What do mini dental implants cost?
They are typically less costly than traditional implants since they do not require invasive surgery to place. In most cases, these may be booked in a single visit. They range between $800 to $1,500 per implant. The dental implants cost with insurance is lower compared to dental implants without insurance.
Are mini dental implants as good as regular implants?
Mini dental implants and standard dental implants are composed of the same materials and perform the same functions. Mini implants are smaller, roughly 2.5mm in diameter, and can be utilized in locations where a regular implant would not fit or in situations of significant bone loss. At Towne View Dental Care you'll have the option of regular and mini dental implants.
Mini Dental Implants Near Me
When attempting to save time and money, choosing a dentist close to where you live, work, or go to school is critical. In addition to normal visits, there may be a few therapy or follow-up appointments. It will be much easier if your dental clinic is close by. Look for a professional who has outstanding evaluations for teeth in a day dental implants and with whom you feel at ease.

Source
Have Questions? Contact Us.