When it's time for your dental appointment, you'll want a team that is just as dedicated and passionate about providing dental services as your dentists! Our team members, which consist of hygienists, assistants, and dental office support staff, are more than happy to answer your questions and help you get comfortable during your appointment. You can read more about them below, so having a casual conversation with them is easy. They can't wait to get to know you and start providing you care!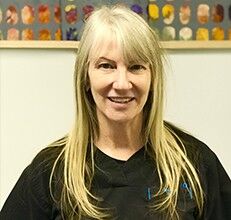 Schedule your consultation today and experience the difference of our service. We will perform a comprehensive exam and discuss with you, one-on-one, about your goals for dental treatment, so that we can create the ideal treatment plan for you. We believe that patient education and doctor communication are pertinent in this process and we hope it will improve your dental experience. Contact us to make an appointment today.
Maricella Serrano, Office Manager
I attended Texas Women's University for Bachelors Degree in Nursing. I have been in the dental field for three years. My vision is to provide excellent dental care to our patients and their families at every visit. When not at work I love spending time with friends and loved ones. I enjoy traveling with my husband and decorating my home.
Have Questions? Contact Us.